NABE Central Region Representative
olivia.hernandez@tntp.org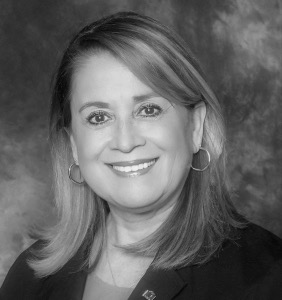 Olivia Hernández, Ed.D.
Dr. Hernández is a proud and confident Latina who values her Mexican American roots and celebrates her bilingualism and biculturalism every day. She is grateful for being brought up in a nurturing home that valued familia, cultura y educación. Her experience living in both México and the United States has helped form her identity and strengthen her advocacy for English learners as a teacher, principal, and administrator. She is the proud mother of two daughters and two sons who are the sunshine of her life. Dr. Hernández has over 40 years of experience in education. She began her career as an ESL and Elementary teacher in Monterrey, Nuevo León. She then worked as a bilingual teacher, assistant principal, and principal in Hidalgo ISD. Dr. Hernández left
the Rio Grande Valley in 2012 to serve as Director for the Department of English Language Learners in Austin ISD. In 2016, she served as the Assistant Superintendent for Bilingual, ESL & Migrant in San Antonio ISD, where she led the redesign and expansion of dual language programs from two campuses to fifty campuses in four years. Her role evolved to Assistant Superintendent for Learning, Language & Literacy for San Antonio ISD, where she oversaw (bi)literacy and curriculum district-wide to
ensure equity and access for all students.
Dr. Hernández currently serves as a Consulting Partner for the Southwest Division at TNTP. She is also proud to be currently serving as the 2023 TABE Past President, helping the organization continue to advocate for bilingual teachers, administrators, students and parents. She has been elected as the NABE Central Region for 2023- 2026.
Since 1977, Dr. Hernández has directly worked with English learners with successful results. Dr. Hernández is proud of her lifelong work in education as she continues to strive towards supporting school districts and other organizations redefine excellence in bilingual/dual language education for all students.