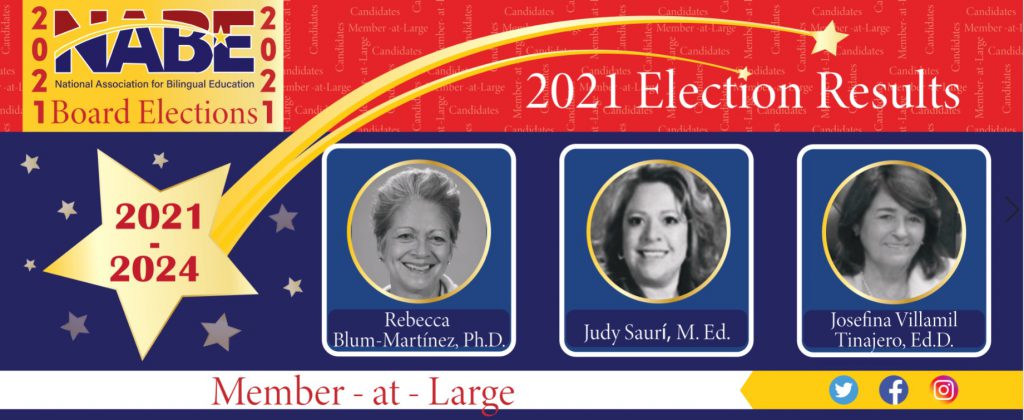 NABE Congratulates the (3) Newly Elected Member-at-Large – (2021-2024)
The NABE Executive Board, membership and staff extends a well-deserved congratulations and welcome to the (3) newly elected Member-at-Large for the (2021-2024) election cycle, and look forward to swearing in the new members at the first organization meeting of the full board on July 1 via Zoom. The newly elected members are Josefina Tinajero, a lifetime board member and 6-time National President was elected to her third consecutive term on the board. Judy Sauri-Medina, also a lifetime board member and National Treasurer, was elected to her second consecutive term. Rebecca Blum-Martinez, a renown and distinguished professor of Bilingual/TESOL Director, and Latin American Programs at the University of New Mexico, was elected to her first term on the board. In all, there was a total of (8) outstanding educational leaders who were candidates in this election cycle (Cesar Moreno, Gilberto Lara, Leo Gomez, Ricardo Gonzalez, Tomas E. Espinosa). NABE also acknowledges all of these outstanding candidates who expressed an interest in serving on the Board. It is very refreshing to see such high-quality candidates who are willing to commit their time, energies and talents to support NABE and to help craft a perpetual legacy of exceptional instructional leadership, research and advocacy in bilingual and multilingual education for the more than 5 million Els and the 20 thousand bilingual teachers and educators in our nation who serve our students and parents. Please join us in welcoming our newly elected board members as reflected in the brief statement below:
Dr. Tinajero has served as one of the key officers of NABE and is credited with steering the association back into a strong fiscal, educational and strategic position. Dr. Tinajero is also the Co-Chair of the NABE Journal of Research and Practice, and a recipient of the Mexican Government coveted "Ohtli" Award. She is also a living legend who has had a newly constructed state of the arts dual language and performing arts PK-8 School named in her honor in El Paso, TX. Dr. Judy Sauri-Medina is a lifetime NABE member, National Treasurer and President of the Chicago Illinois Association for Multilingual/Multicultural Education (IAMME), one of NABE's most valuable Affiliates. She is also the immediate past principal of Chicago's largest and most distinguished dual language, IB and performing arts middle School. Dr. Rebecca Blum-Martinez is a Professor, Bilingual /TESOL Director, Latin American programs in Education (LAPE) in the College of Education & Human Sciences at the University of New Mexico.
Once again, we Congratulate our new board members and also extend sincere thanks to all of the candidates for their interest in serving our Bilingual and dual language learners. We are extremely proud of all of our Board Members and welcome their continued commitment, contributions and interest in serving our students and crafting a visionary and dynamic strategic path to rebuild better towards another 50 years of excellence and success in bilingual education.
"¡Sí se Puede!
Santiago Wood, Executive Director
Nilda Aguirre, Deputy Executive Director