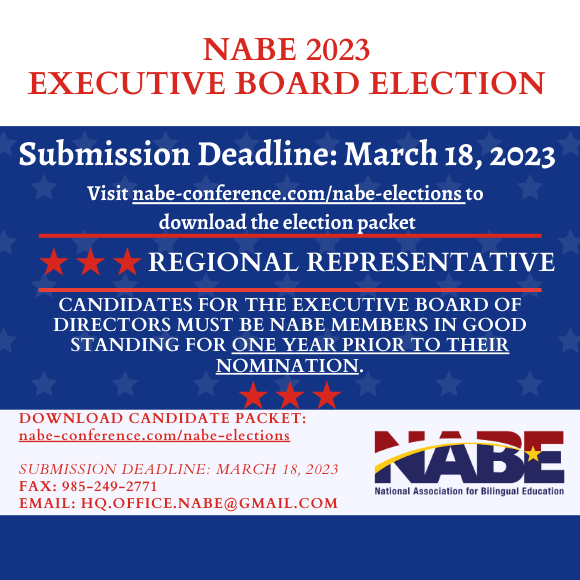 Visit http://nabe-conference.com/nabe-elections.html to download the candidate packet
NABE 2023-2026 ELECTION TIMELINE FOR (3) REGIONAL POSITIONS
(East, Central, West)
TERM OF OFFICE 2023 – 2026
Welcome to the National Association for Bilingual Education Since 1975, the National Association for Bilingual Education (NABE) has been an
education, non-profit membership organization that works to advocate for educational equity and excellence for bilingual/multilingual students in a global society.

What We Do:

Improve instructional practices for linguistically and culturally diverse children.
Provide bilingual educators with more high-quality professional development opportunities.
Secure adequate funding for the programs serving English Learners and Dual Language students.
Keep the rights of language-minority Americans clearly in focus as states and communities move forward with educational reforms.
NABE Board Policy:

Section F.

Regional Representation: For the purposes of nominations and elections of Regional Representatives, there shall be three regions: EAST, CENTRAL and WEST.

The East Region:
Shall be comprised of: Connecticut, Delaware, District of Columbia, Florida, Georgia, Maine, Maryland, Massachusetts, New Hampshire, New Jersey, New York, North Carolina, Pennsylvania, Puerto Rico, South Carolina, Rhode Island, Vermont, Virgin Islands, Virginia, and West Virginia.

The Central Region:
Shall be comprised of: Alabama, Arkansas, Illinois, Indiana, Iowa, Kansas, Kentucky, Louisiana, Michigan, Minnesota, Mississippi, Missouri, North Dakota, Ohio, Oklahoma, South Dakota, Tennessee, Texas, and Wisconsin.

The Western Region:
Shall be comprised of: Alaska, Arizona, California, Colorado, Hawaii, Idaho, Montana, Nebraska, Nevada, New Mexico, Oregon, Utah, Washington, Wyoming, and the Trust Territories of the Pacific Island.
Deadline to Submit Documents:

Notice is hereby given that the open period for accepting NABE Executive Board of Directors Candidate Nomination Petition and Candidate Information Form is open from February 23 through March 18, 2023. Both forms along with a passport sized photo of the candidate must be submitted to the NABE Office either by fax or email as follows: Fax: 985-249-2771 or Email: hq.office.nabe@gmail.com.

There are three (3) Regional Representatives positions open for election and each one will serve a three-year term in office (2023-2026). Newly elected candidates will be expected to attend the swearing-in and re-organization of the Executive Board of Directors held June 1st, 2023.

Nomination Procedures:

Candidates for the NABE Executive Board of Directors may be nominated for election in one of two ways per the NABE Board Policy Section A. Nomination of Candidates. (1) by the written petition of any NABE affiliate organization in good standing, which may nominate one candidate for Executive Board each year, or (2) by the written and signed petition of any five NABE members in good standing. NABE Board Policy Section
B. Qualification of Candidates: Candidates for the Executive Board of Directors must be NABE members in good standing for one year prior to their nomination.
Election Timeline:

The Election will take place from April 18 through April 25, 2023 and will be conducted by online voting via Simply Voting Inc., an independently managed online voting service that conducts national and international polling and voting activities in the U.S., Canada and Europe. The election results will be announced and posted on the NABE website on April 26 and elected candidates will be notified of their election to the board by the Executive Director. Interested and qualified candidates in good standing may download the attached documents, complete, sign and submit to the NABE Office as indicated above.
Visit http://nabe-conference.com/nabe-elections.html to download the candidate packet