Western Region Representative
mmachadocasas@sdsu.edu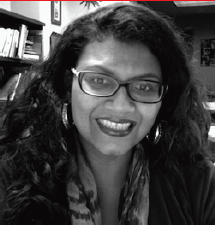 Margarita Machado-Casas, Ph.D.
Dr. Margarita Machado Casas is a Full Professor and new Chair in the Dual Language and English Learner Education Department. She completed her Ph.D. at University of North Carolina at Chapel Hill, and completed the prestigious postdoctoral fellowship at Frank Potter Graham (FPG) Research Institute at Duke University.
She currently serves as the editor of the Critical Issues in Latina/o Education series for Peter Lang Publishers and has recently signed to edit the "Critical Studies of Latinx in the Americas", and the "Critical issues in Education around the world book series". Dr. Machado Casas is also a board member of several academic journals and is currently a co-editor for the Handbook of Latinos in Education that was awarded the American Education Studies Association Critics Choice Award. Most noteworthy, she has edited over 10 international books and published over 40 academic publications in top tier international journals.
Most recently, she co-authored "No Estas Solo, Recetas Para Obtener EXITO de Padres Para Padres" (You Are Not Alone: Recipes for Success by Parents for Parents) that was chosen to receive The International Latino Book Award for parents.
Her research interests include immigrant, indigenous and Bilingual/Multilingual education, transnational communities, and minority agency in the fields of education, literacy, assessment/evaluation, parent/family involvement, and social cultural foundations. Currently, she is part of a national research project looking at indigenous and bilingual/multilingual education and identity.
As a researcher and advocate for immigrant Latino and minority families, she organized CUPE: Comunidades Unidas para la educación de sus hijos (Latinos United for Education). CUPE is a program designed to help Latino and minority families become advocates for their children's education, and also works with schools to develop culturally appropriate ways to assess language minority students in academic settings. CUPE has helped Latino families in three states, impacting thousands and families and students. It has received many awards and has now been expanded to include to serve the needs of refugee families.
Dr. Machado-Casas has also worked with international education ministries on education issues related to the education of multilingual transnational students. She is the co-creator of the very first multilingual and multiethnic language master's program in Bluefield's, Nicaragua, which is housed at Bluefield's Indian and Caribbean University in Nicaragua.
Dr. Machado-Casas is the co-director of the National Education Latino network that provides educational links to over half a million people around the world. Dr. Machado-Casas is also a board member for the Latino Education Advocacy Days (LEAD) and the Executive Director of Transnational Educational Exchange and Intercultural Relations for the LEAD Global Network. She has provided education expert help for Univision and Telemundo television networks. In the U.S. Dr. Machado-Casas is Co-Chair and creator of the National Bilingual Education Student Organization (BESO). This is the largest bilingual education student organization in the US.
Dr. Machado-Casas track record in securing external grants is impressive as evidenced by her having been awarded over $15 million dollars in educational grants to date.  Most recently she was the Co-Principal investigator for a five-year $2.6 million grant from the U.S. Department of Education that funds the UTSA Academy for Teacher Excellence (ATE). Commendably, both the Academy for Teacher Excellence and the Latino Education Advocacy Days were for chosen as 2015 Bright Spots in Education by the White House Initiative for Education Excellence for Hispanics.  
She was proudly born in Bluefields, Nicaragua and migrated to the US at the age of 14. She is married and has three children. And always keeps it #REALTALK!